Cold glue application systems for forniture industry
"With Zator we share the same philosophy: go beyond the concept of "standard product" and provide our customers with the most suitable solution for their needs, even if this implies longer working hours and the capacity to adapt".
To talk about the collaboration with Alberti Engineering, mainly focused on technology and systems for the processing of wood and wood-based panels, let's start with this sentence, pronounced during our case history by Marco Alberti, sales manager of the company based in Cernusco Sul Naviglio, just outside Milan.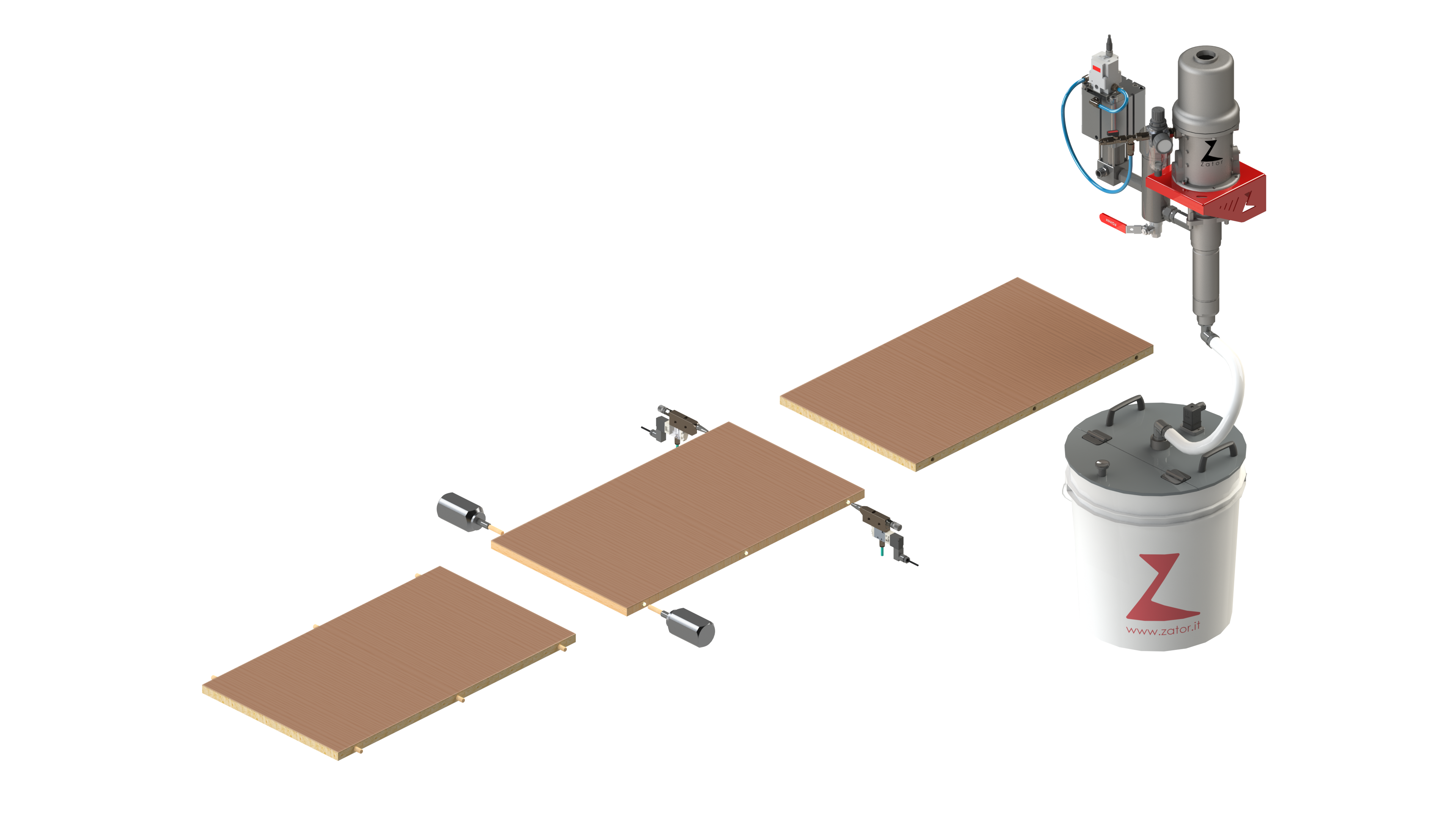 wood panel manufacturing technologies
"we turned to Zator – who has become our official supplier for all adhesive dispensing applications and issues, both for panels during furniture assembling and for dowel inserting operations – because we needed to solve a big challenge: having

ad-hoc solutions

in our cold glue application systems.

We needed effective solutions quickly, that could help us adapt to the needs of our customers, and frankly speaking, we have found a reliable and very correct partner who can offer high-quality products".
Alberti Engineering, automatic and semi-automatic machines manufacturer, he came to us to find the right solution to a request from one of his customers.
the PROBLEM
"We had to produce drilling-inserting machines that, during the process, could also dispense glue, but due to the footprint of the drawer guide on the panel, we did not have the ideal space to apply the adhesive: the gun nozzle was too far." Marco Alberti added.
the SOLUtion
At Zator, we internally consulted with our technicians and developed a custom solution: an electropneumatic gun with a longer glue ejection section (an "extension"), so as to shorten the gap from the adhesive application point.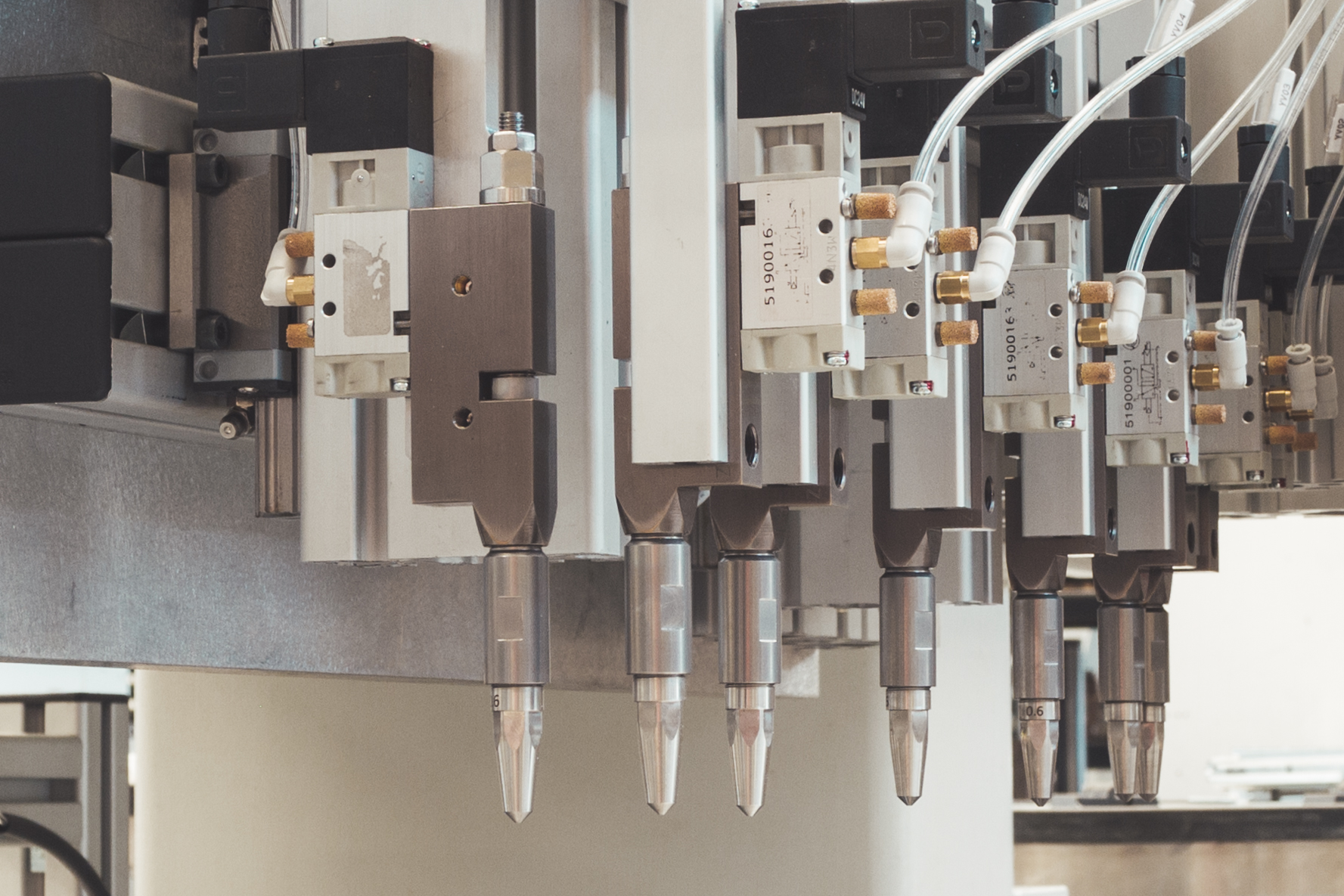 CUSTOMER FEEDBACK
"This is the reason why we are so happy with this collaboration: we needed a special product to maintain high quality standards, and we have found it. It's a pleasure to move in synch" Marco Alberti said.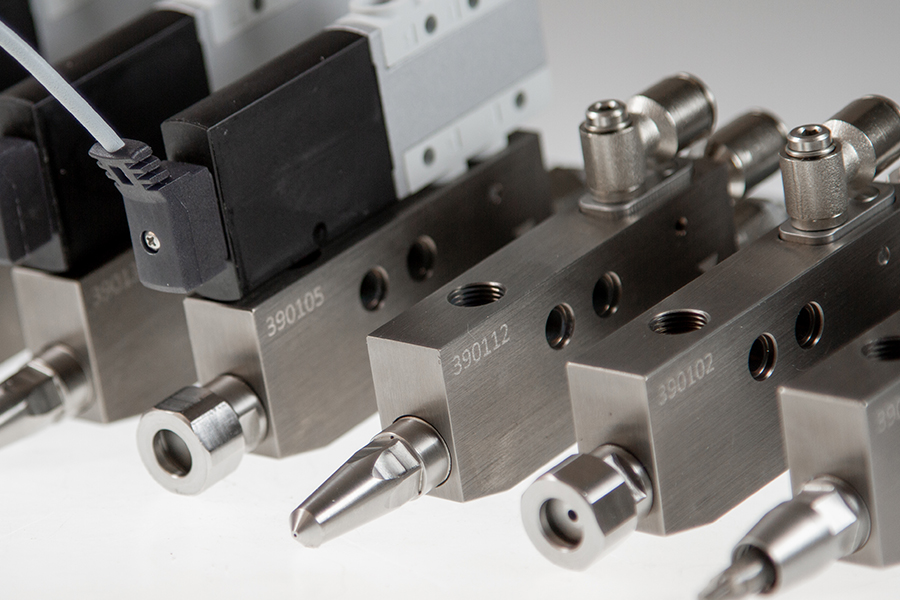 DISPENSING valves dedicated to the furniture industry
There are three types of valves that we offer, MV1, MK1 and MF1: the first two are for extrusion valves to apply lines or glue dots, while the third is spray valve, used to atomizing the glue. All of them are perfect for cold glue application systems for forniture industry.
Extrusion valves
MV1 and MK1 are pneumatic valves suitable for use on boring – doweling machines, doweling machines, machining centers, furniture assembly lines and panel assembly. The valves are designed to work at low and high pressures up to a maximum of 80 bar and they got the particularity of using "zero cavity" nozzles, thus preventing the adhesive from occluding the nozzle.
The MV1 can be activated even via an electropneumatic, 5 ways valve, in this case, it takes the name of MK1.
Both solutions are compatible and interchangeable even after purchase.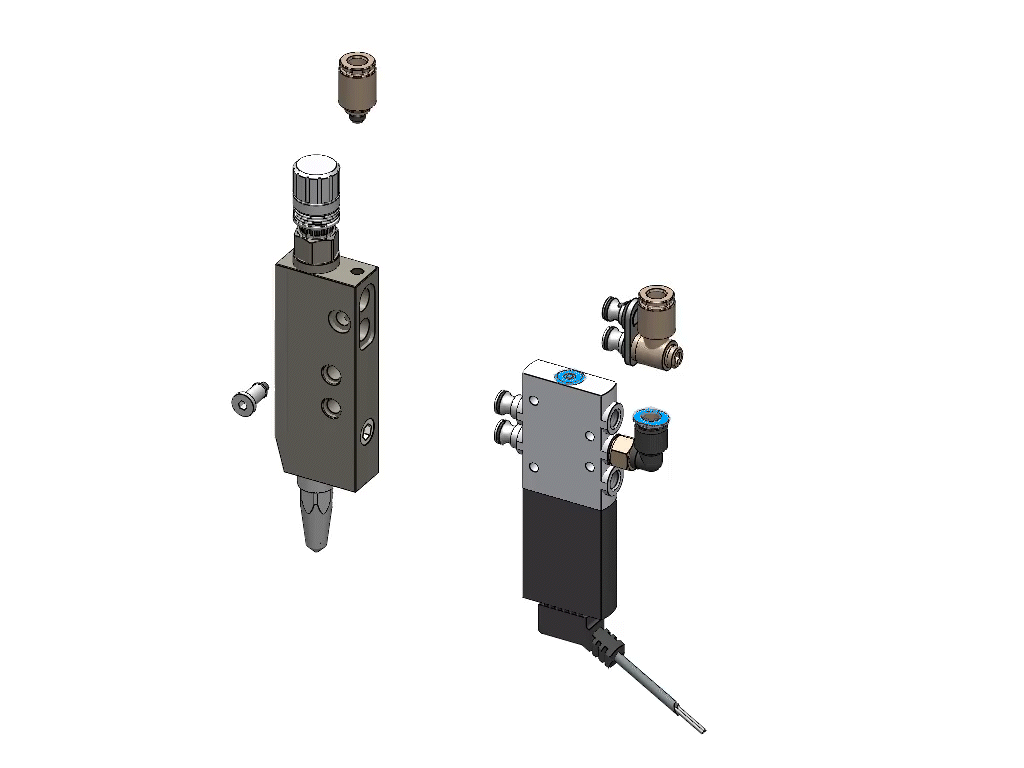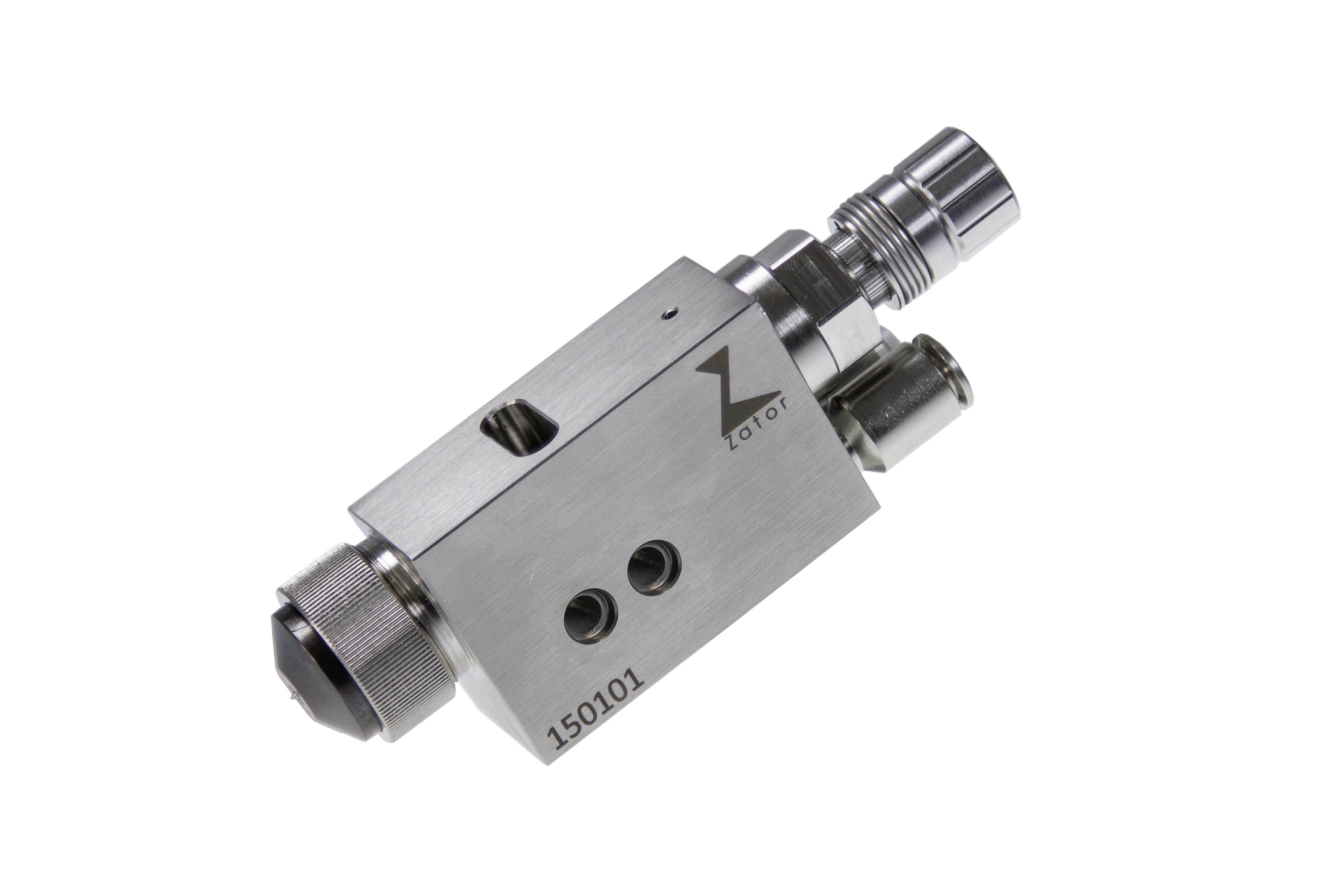 SPRAY VALVES
MF1 is a spray valve suitable for low viscosity adhesives and is recommended in applications where a precise and uniform nebulization of the product is needed. It has the particularity of nozzle and the cap with anti-stick coating and it's pneumatically controlled by 2 external solenoid valves: one to control the movement of the needle and the other solenoid command the nebulization of the fluid.
OUR PRODUCTS FOR WOODEN INDUSTRY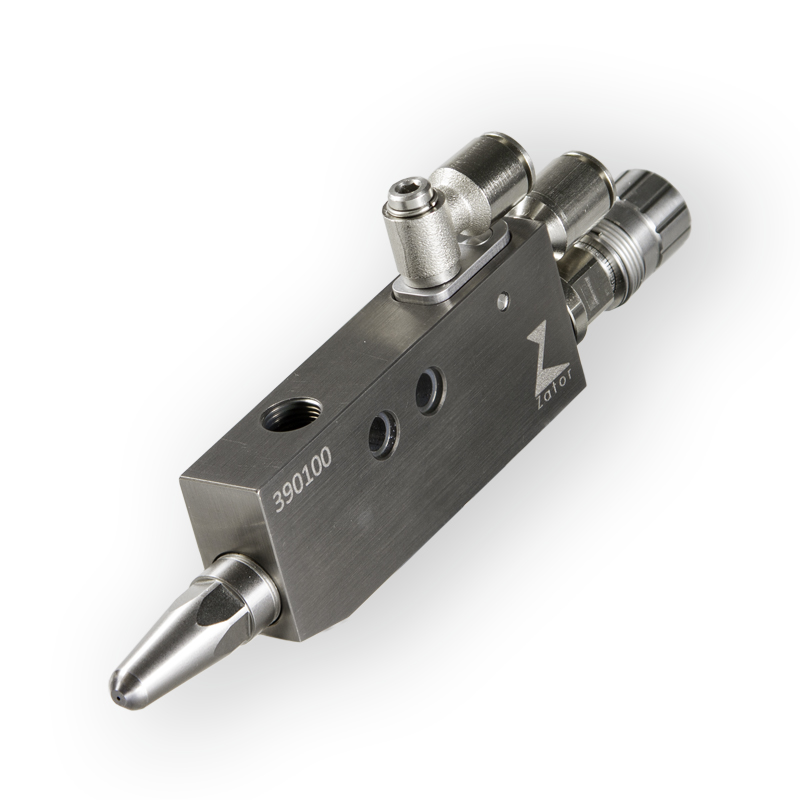 The extrusion valve MV1 is a dispenser of glues, adhesives and fluids, from low to high viscosity. Designed to be used on a variety of machines, the MV1, is a pneumatically triggered, single or double acting, compact valve.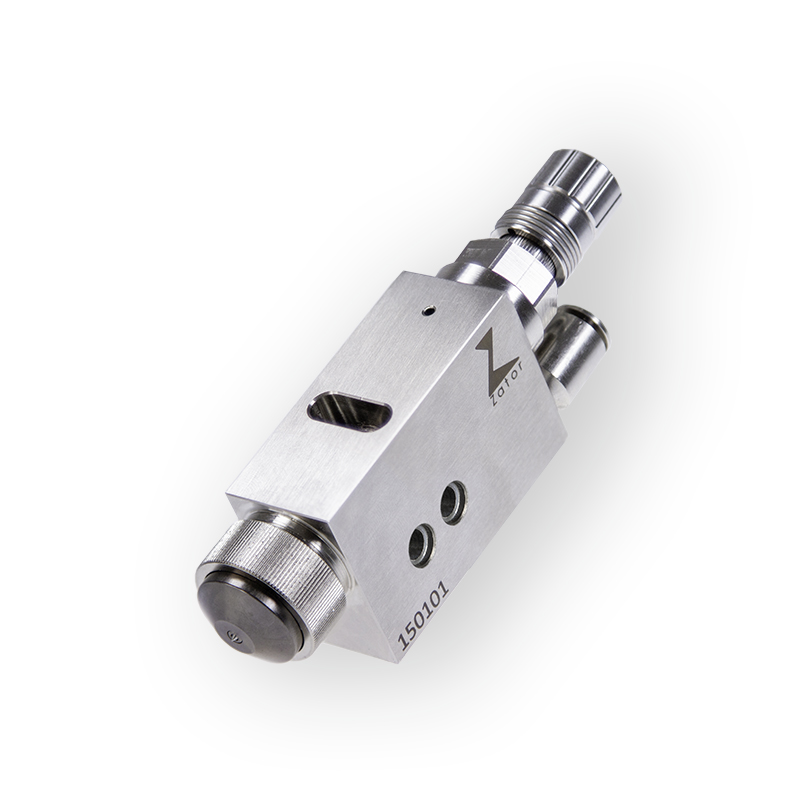 Spray valve for low viscosity glues, adhesives and fluids. The MF1 is pneumatically controlled by 2 external solenoid valves; one to control the movement of the needle, the other solenoid command the nebulization of the fluid.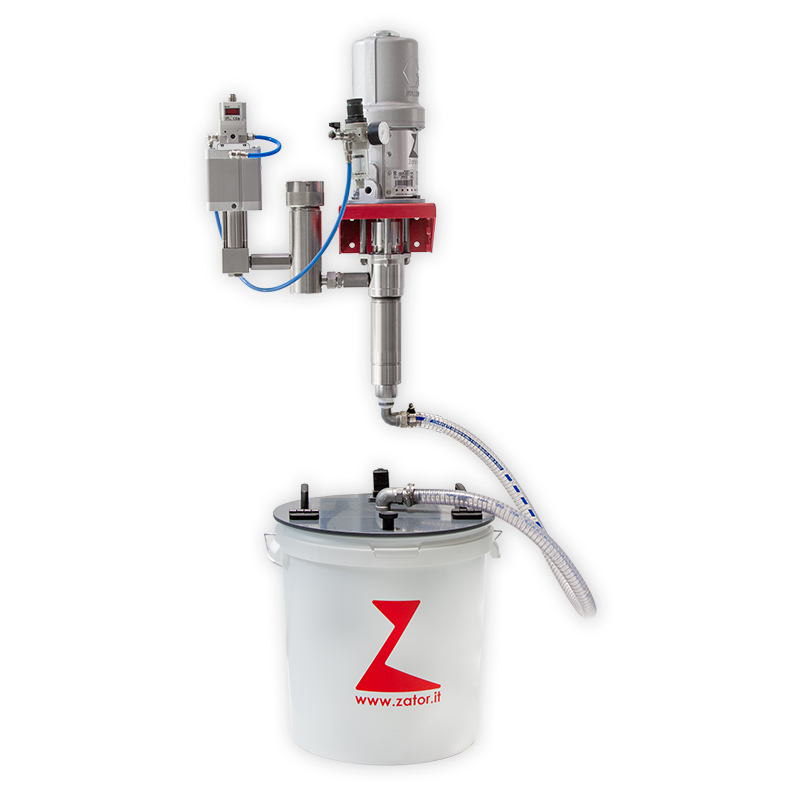 Glue feed unit with pneumatic piston pump 5:1 ratio equipped with: suction pipe with filter and bottom valve, 5:1 ratio automatic stainless steel pressure regulator, proportional valve for automatic control of fluid flow…
WHY CHOOSE ZATOR
All these valves can be installed individually or become integral parts of our complete cold gluing system. All components are designed and manufactured entirely, therefore it is possible to create "custom-made" solutions to meet the specific requests of the customer.
Our production chain is based on the most uncompromised MADE IN ITALY philosophy: raw materials are selected carefully, tested components are checked and tested, latest generation machinery come from world's best manufacturers (swiss, german, japanese), equipment and tools precision are suitable to the more specific uses. Nothing is left to improvisation or approximation.
All the details are verified on test benches before being assembled and shipped. We never want to give up to quality… And you?
YOU WANT TO BE CONTACTED BY OUR TEAM?